Kit Kat Lounge & Supper Club has been one of our secret favorites on the north side of Chicago. Well, we wanted to let the cat out of the bag. It's awesome! And their
NYE party is coming up soon
. So what better time sip on their amazing martinis and watch shows from the most
fabulous
drag queens shaking their groove thangs' than the holidays? Read on!
* * *
High heels, female impersonators, martinis and contemporary-eclectic cuisine are just a few reasons that make this business a sparkling, sexy and special place that everyone should experience at least once while in Chicago. Kit Kat Lounge & Supper Club is a one of kind Chicago find that will surely make for an adventurous and fun night out for you and your partner or group of friends!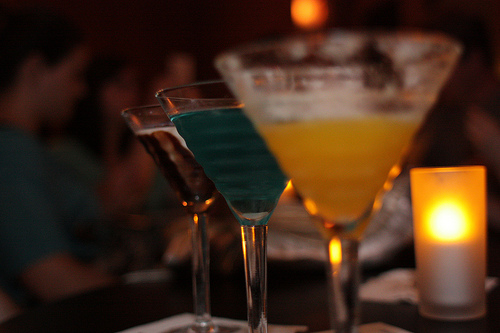 All About Kit Kat
Kit Kat Lounge & Supper Club is an eclectic Chicago hot spot reminiscent of the 1950s supper clubs. Kit Kat Divas, impersonate past and present female stars while you sip on martinis and dine on contemporary American cuisine in a South Beach meets Old Hollywood inspired restaurant. Kit Kat is great for all demographics, ages, and events.
Performances run every 20 minutes from 7:30PM through midnight. With currently seven Divas, you will likely meet the likes of Diana Ross, Janet Jackson, Tina Turner, or Madonna all in one night. A few of them might just serenade you. Kit Kat Lounge & Supper Club has one of the largest cocktail menus around.
With over 200 martinis
, and at only $12 a piece, you will be able to experience dinner and live entertainment for a reasonable price.
A little bit of history
Edward Cisicer and Ramesh Ariyanayakam opened Kit Kat Lounge and Supper Club in 2000, just north of Boystown in the Lakeview neighborhood of Chicago. The owners were inspired by a love of entertainment and wanted to create a space that would engage all of their guest's senses. The vibe of Kit Kat is an entertainment oriented establishment where you are allowed to let go and have fun!
Why they're awesome
Kit Kat Lounge and Supper Club hosts numerous events. Recently they participated in a fundraiser to help raise money for the Ali Forney Center (AFC), a vital services organization for homeless LGBT youth in New York City that was hit hard by Hurricane Sandy.
The Kit Kat Lounge also features weekend Divalicious brunches that are hosted by long time Kit Ka Diva resident, Madam X. There are numerous daily specials and on Tuesdays you may just meet Mae West! The vibe at Kit Kat Lounge is open and freeing. Whether you are a part of a bachelorette party or are a fan of the Kit Kat Divas, Kit Kat Lounge is a destination that should be on your list. Check out one of our favorite divas:
Aurora Sexton
(to the right).
Kit Kat is open for dinner daily from 5:30pm to 2:00am (kitchen closes at midnight). Reservations are required, Outdoor patio seating with a seating capacity for 80 people is also available.
You have read this article Businesses with the title Why We Love Kit Kat Lounge & Supper Club!. You can bookmark this page URL http://jadejurgensen.blogspot.com/2012/12/why-we-love-kit-kat-lounge-supper-club.html. Thanks!